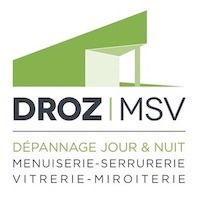 DROZ MSV
Over 30 years' experience
Set up in 1991, our company now employs 15 people and has 10 fully-equipped vehicles, providing you with a 24/7 emergency service for carrying out repairs, unlocking/locking homes or businesses and securing premises that have been burgled, vandalised or damaged in some other way. We can also carry out all the follow-up repair work required after an emergency call-out, along with any joinery, locksmith or glazing and mirror work.
Our professional and experienced specialists will be happy to advise you and draw up a quotation for your projects, and will carry out the work diligently, carefully and to a high standard. For several years now, we have been working with major private and public clients: the Geneva Police, private security firms, insurers, estate agents and the Canton of Geneva. We offer our services in the Canton of Geneva and the Côte Vaudoise area. 

Why choose Droz MSV?
Our added value
A complete range of quality services meeting the needs of all your projects.
1
Family-owned
A friendly family-owned business on your doorstep.
2
A great team
A professionally qualified team of experts.
3
Trustworthy
The loyalty of our private and public clients says it all.
4
24/7 repair service
A fast, 24/7 repair service all year round.
Our Team
Fully Qualified Electricians
All our personnel operate within an Integrated Management System to ensure the delivery of services that are at an exception level of quality, reliability, and value